Meet Dr. Archie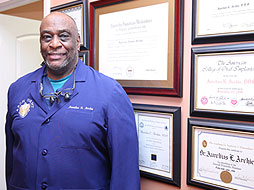 Cosmetic Dentist Aurelius E. Archie, DDS
Dr. Archie, DDS graduated from Howard University in Washington, D.C.. He also earned his B.S. in Pharmacy from Xavier University in New Orleans, LA. Dr. Archie's 25 years experience originated in New Orleans. He relocated to the Atlanta area after Hurricane Katrina took both of his practices.
Dr. Archie is the proud father of one son, who is a dental school graduate and now working alongside Dr. Archie in the office.
He enjoys cycling, tennis, golf and fishing.
Arch Dent Dental Clinic, P.C.